O2 Priority
Product Design
Developed in 2011, Priority Moments was an innovative location based service created by O2 and R/GA serving up nearby offers and experiences to existing customers.

We had a dedicated Interaction Design team working on the mobile applications and the responsive website. As a team leader, it was my job to give the initial direction and provide support during the following stages.

R/GA executed the concept, strategy, brand, interface design and measurement plan. The experience was coded by a third party and O2.

At the beginning of the project, we gathered the customers' insights and mapped against the opportunities for O2. The result was a list of brands, moments that needed a boost (e.g. rainy day), relevant dates (e.g. birthday), and stages in the relationship with the brand (e.g. approaching the end of the contract).
The product propositon guided or approach to the interface.
At the touch of a button, find exclusive offers and experiences nationwide.
The platform offered a tiered reward program designed to drive engagement, reactivate lapsed users, reward premium customers, and to increase overall satisfaction with O2.
To boost the volume of offers for consumers and deliver nationwide coverage, we closed the loop by creating a platform for local business. This new area allowed SMBs to create offers and experiences to every high street and side street, and to deliver a richer service to O2 customers – true to their familiar local shopping routine.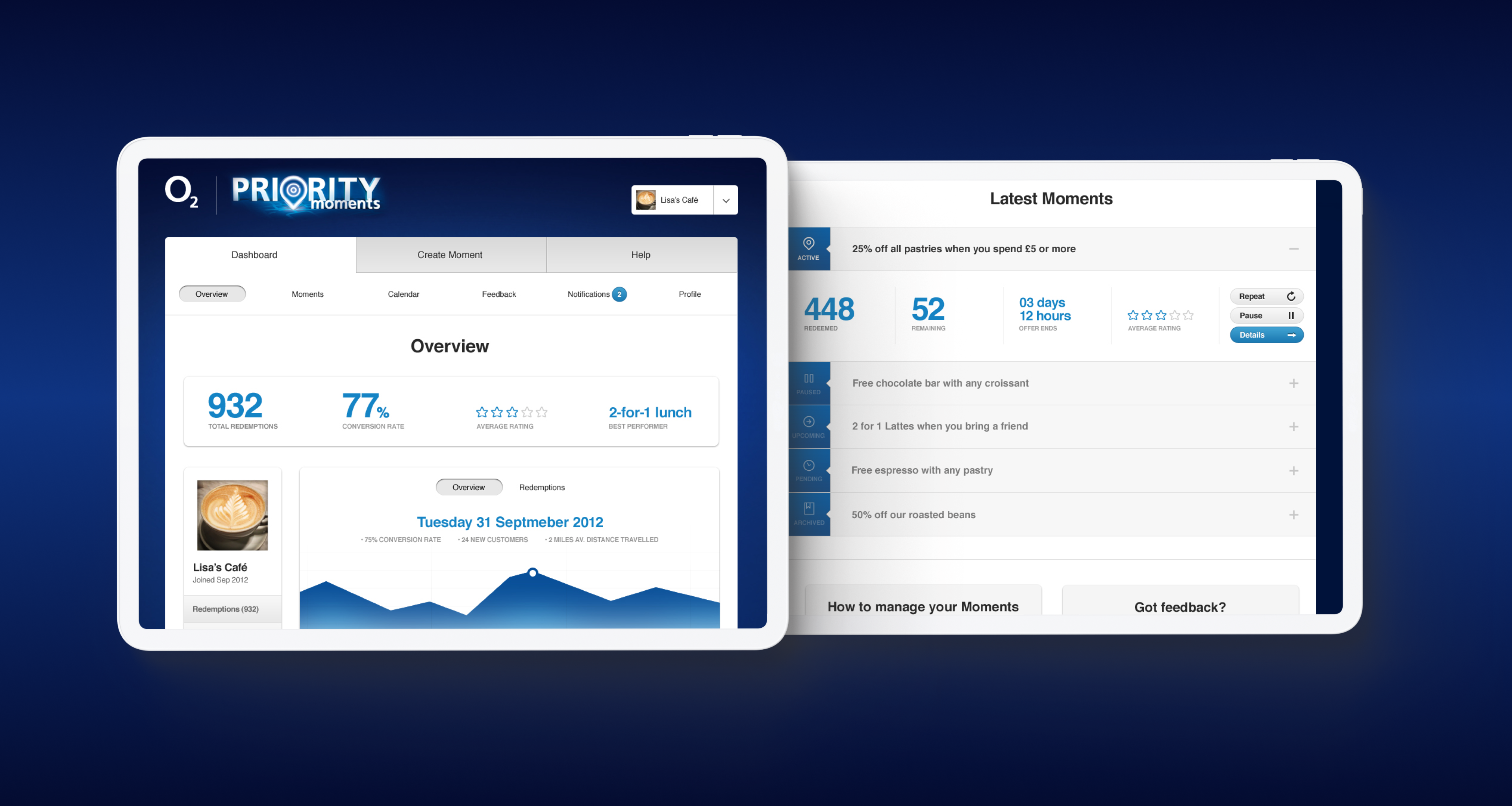 In the first 18 months following the launch of the first release for customers and local business, the platform achieved great results:


1billion +

Offers viewed


6million +

Offers accepted


4million +

Offers redeemed


1000+

Local business (SMBs) registered

In 2012, Priority Moments' active base, those customers that used Priority Moments at least once in 30 days, reached 1.3m. With over 4 million registered users, it became the UK's fastest-growing loyalty programme.